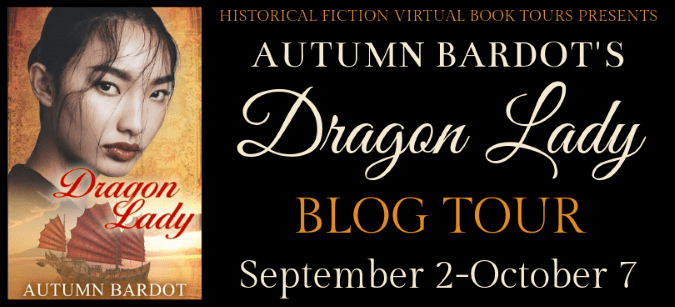 Blurb:
"Prostitution required the violation of my body. Piracy required my soul. The first enslaved me. The second set me free."
Against all odds, a prostitute becomes the most powerful pirate chieftain in the South China Seas. Sold into slavery by her parents, Xianggu works on a floating brothel for ten years before a midnight pirate raid changes her life. Determined to rise above her lowly status, the fearless young woman embarks on a journey requiring beauty, brains, and brawn.
Red Flag boss, Zheng Yi, is captivated by the spirited Xianggu and soon makes her his wife. This begins her adventure into the violent world of sea banditry. But Xianggu must do more than learn to wield a sword, sail a ship, and swim across a bay. She must become indispensable to Zheng Yi or risk losing everything, even her life.
In 18th century China, when men made and enforced the rules, the Dragon Lady lived by her own.
My review:
I am part of the Historical Fiction Blog tour and thank you to Amy for providing me a advanced review copy of this.
Cast your minds back to 2007 when you were watching Pirates of the Carribean at World's End and you saw a Chinese Pirate Lord named Sao Feng. She was fictional of course, but she was based on the actual Cheng Sao who dominated the South China Sea in the 18th century. She was by many accounts, terrifying. This novel gives her a more human image and explains her reasons for why she committed piracy. But I mean when you're a concubine dealing with men of the highest administration of the land that are so corrupt, it fills with you sadness. Instead of doing good work, they spent their time celebrating and dining with girls while the people began to starve. The Nobles couldn't give a damn about the common peasant. The Nobles of Korea were opposed to Sejong the Great for this manner, when he introduced his new language script, Hangul. That language that is now spoken by thousands of Koreans today. That was not possible to do because Sejong faced hostility from the nobles. The Nobles learnt Chinese characters and phonetic alphabets, thus that secured their power. By learning Hangul, Sejong was effectively ridding them of their power. There are contrasting opinions on this. Compare this to Xianggu, who is the dragon lady of our book. It is no wonder that she revolted, and desired more freedom for herself. And Zheng Yi is a brutal man that you would begin to despise. I did not feel much for him but only that he was one brutal pirate.
This book is a roller-coaster of emotions, love, and erotica set in a political backdrop when the cracks of the Great Qing Empire was beginning to demonstrate that it could no longer be self sufficient as a great power.
Corruption and Opium were two of the biggest downfalls of the Qing, and talented administrators were quickly replaced by corrupt administrators that in many ways resemble how Josean failed to modernise unlike its Japanese neighbour, and like the Qing, quickly fell under the Japanese's Imperial Ambitions. I say this because both China and Korea for that matter were going into a period of decline at this point. Now if someone could write a novel where time travellers wanted to change the future, we would see a very different history in the far east.
Granted that this is 1800, but the Qing weren't exactly making it easy for themselves when they could not get rid of Xianggu and her Red Sail Fleet. Hiring inexperienced Captains and unworthy sailing crew rather reminds me of Napoleon's arrogance when he was warned by his naval experts that the French Navy was not ready to fight the British. The Qing had exactly the same attitude that they could send their navy and there would be a glorious victory when they weren't making any serious reforms that the Qing Navy massively needed.
During the course of this novel, we spend a lot of time in junks, crew fights, family rivalries, and sexism. A lot of it. I say this because sexism was prevalent in the Far East. Do we know the motives behind it? There could have been a multitude of reasons. Nevertheless it was not easy for Xianggu to become chieftan. That was their time.
I enjoyed the writing style, the dialogue is quite good in this novel. I appreciate the author's hard efforts of translating Traditional Mandarin script, as it would not have been easy to name every title of every ship's commander position. The novel does have a lot of swearing but I suppose this is for the Western audience to relate too, as I read in Liu Cixin's new published science fiction, Western readers couldn't relate as much due to the missing nuances, i.e the cultural aspects that they may not be familiar with. So I commend for her that, I would have preferred to have seen more Chinese style swearing. It adds more immersion in my opinion, not in too much, but little sprinkles dotted around the book would have been nice to see.
This is a brutal world, that if fantasy writers wanted, they could make an ample book out of this. The Poppy Wars by RF Kuang are a very good example of this. I liked Xianggu's character development but disagreed with most of what she did, as I feel she needed a bit more time with herself, as opposed to the amount of characters she has to deal with. But when you're the Dragon Lady, commander of a large fleet terrorising the biggest empire in the known world, I did feel sadness that she couldn't enjoy as much as she would have liked too. A normal life. Away from all the prostitution and misery. Even the Kings of Josean at some point wished to do good for their people, but they couldn't when the arrogant Nobles and corrupt administrators kept interfering in their way and removed the royal families when they needed too. I noticed this is quite common in what I've watched in Chinese, Korean and Japanese historical dramas. I would have liked to seen more involvement of the British and Portuguese because I didn't know they were interacting there. Sure the Napoleonic Wars takes the cake of Britain's involvement of Europe, but British expansionism into China during this period is not often explored for that matter. I wanted to see the actual massive man of wars that Britain had, and how they would fair against a Chinese Junk for that matter.
This is a great book, and Autumn has done a great work. I loved this, and think its fantastic. Prose is great, writing is great, everything about is great. I would rec this 4/5