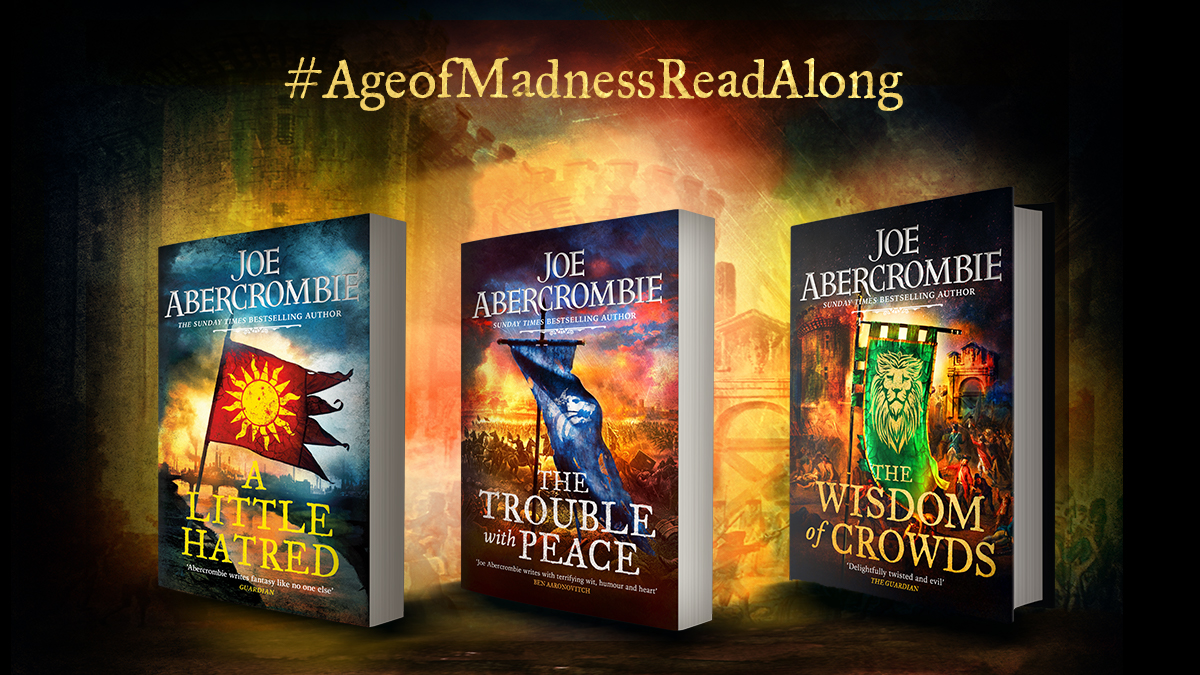 Hello, and welcome to this #AgeofMadnessReadAlong tour! I am very thankful to Will, Gollancz and Joe Abercrombie for allowing me to participate in this wonderful read-a-long tour. I thoroughly recommend a Little Hatred, and it is absolutely fantastic. Below are my summaries of the chapters as best as I could interpret them!
Chapter 18: Biding time and wasting time
Biding Time is an appropriate name for this chapter, between headstrong warlords and calmly experienced warriors that focus on results. Stour is an incredible bastard, and when the word bastard was mentioned, I couldn't help but read it in Sean Bean's unusual way of pronouncing it. In summary, a hot-headed Stour Nightfall, leader of the new generation of the Northmen, determined to make his fortune cannot capture Rikke. While Clover tries to calm him down, Stour's having none of it. Stour is intent on becoming and amassing more power, so everyone will fear him and respect him at the same time. Stour also wants to become the Bloody Nine, but I doubt he knows what it means to become someone like him. Wonderful is more deadpan, she's trying to make sense of everything, and while a dispute occurs between Clover and Magweer (one of Stour's Lackeys) and Wonderful states that Clover should stand up to him, Clover shrugs. Clover's an experienced warrior to realize that you don't always need to pick a fight with someone. You choose the battle when its the most advantageous to you.
Chapter 19: The BIGGER THEY ARE
Leo's desire to win on the battlefield is quite present in this book. This young man will not hesitate a moment to get some glory and to prove to everyone that he's not an incompetent warrior. Amidst some friendly banter. He faces Glaward, one of the toughest soldiers of the army. Jurand is a loyal friend and gives him friendly advice from time to time, I feel. Glaward is boastful and well, he's a warrior with a thick skull. Brave, but foolish. Reckless, but strong. Outraged but powerful. At some point, I didn't know if Leo was going to fight him off! Glaward is beating the living daylights out of Leo, before Leo adopts a drunken swagger, and completely outwits Glaward! He encounters Rikke and Isern, with Rikke really stating how much of a messed-up life she's had. Of course, Antaup has to come in once she's gone to do her own stuff with Isern, and loves to offer advice. Advice which isn't that great.
Chapter 20: Questions
The Arch Lector tortures Vick, whom I believe is a brutal man that will do everything he can to keep power. This chapter is more about the purpose of the fact that politicians will never see the people as people. For Sand Dan Glokta, giving people too much will free will allow them to revolt. As a former champion, a great warrior, the Gurkish often tortured him, and that experience built him up, making him a cripple, and no man or woman wishes to become one. The power he holds in the King's Inquisition in the Union is as important to him as anything else. When we see Vick, she's in the most uncomfortable position that anyone can wish to be. I think there's some authoritarianism in here, and I can't help but recall real-life analogies. In the end, the Arch Lector questions and interrogates Vick to find out the source of the Gurkish fire, and Vick must find the Weaver in the city of Valbeck. She lies, of course, to Glokta, but I think Glokta knows that. He's too clever, while her offer to let Tallow serve the Inquisition, offering her sister as an exchange in this negotiation. For Glokta, this is brilliant for him. Everything seems to go his way for now…
Chapter 21: The machinery of state
Prince Orso tries to summon an army to rush to Angland which is under attack from Stour Nightfall's army. However, he learns to deal with the bureaucratic stare of the Union, unsuccessfully failing to secure funds from Marshall Brint. Marshall Brint of course is happy to help the young Prince, and to destroy the northern savages for killing his wife. Of course, the Marshall comes to the realisation that the army was disbanded following the war in Styria. Gorodets controls the finances and Glokta controls the state policy. They effectively handicapped the Marshall in his ability to help Orso. There is also widespread rebellion as well in Midderland, and a rebellion in Starikland to deal with. By these options presented to Orso, I feel as if he's stuck between two worlds. He can't get those men, his father, the King promised him without securing additional funds from Chancellor Gorodets who is a toad of a man. In the end, Marshall Brint confirms that money wins wars. It's alright winning battles combined with manpower, but without the money to secure it, you cannot win a war like that. Chancellor Gorodets argues to Orso that raising more men will increase the taxation on the peasantry and the nobles will not stand for it. The Union has lost three wars, and is in debt to the banking house of Valint and Balk. In short, if Orso wants men, it will be an expensive purchase and eat into the budget of the Union. Gorodets chuckles and states that he is an accountant after all, for it is Glokta sets the policy for the Union. I sometimes felt as if Orso just stopped for a second to think. Is his family a puppet regime in all intents and purposes? Why are Gorodets and Glokta having more power than his father does? Gordoets and Glokta are also politicians and they see Stour as ambitious and head-strong even if he's dull witted. Orso has to deal with that frustration and like Leo, is constantly under-estimated. He has the burden of the throne of the Union upon his shoulders, and that plays a heavy role on his confidence as a man, and as a prince – though I would not under-estimate Orso.
Chapter 22: Sore spots
Savine and her mother discuss the bindings of marriage, conflicting over whether Savine should marry a rich idiot that likes men, or a pretty idiot that isn't too hard to look at. Her mother in the end settled for Sand Dan Glokta, and states that she didn't regret marrying him. I feel that Savine's mother knows her husband loves to inflict pain out of other people, but there's not much she can to stop it, or will. Throughout this chapter, I could feel Savine's ambitions rising. She has that much from her father, and she doesn't want to be a housewife or stay in tradition. She enjoys fencing, and exercise and her free will, including her abilities to invest. It's her belief, of course, that if everyone spends time, effort and money, they too can become beautiful. For Savine, good looks matter. For the court of the Union, well, I believe she thinks this a lot. She is often dealing with people or transacting. Deciding while furthering her ambitions to become the High Queen of the Union, having an affair with Orso. She doesn't really care for him, but she loves him. This is something I feel will not go very well at all.
Chapter 23: FULL OF SAD STORIES
This is all about chimneys and sweeps and people growing discontented with the Union. Broad is now starting work at a factory, restarting the forges. Children work in this sweep, as he's guiding them to clean the chimneys. Sarlby is a bitter old man, sarcastic and witty. He observes the children employed are no better than slaves. Broad's wife work as a stitchery while his daughter works as a maid. Mostly decent for now. Sarlby expresses thoughts of revolution, of change and helps the poor. Board is reluctant to join, but he has reasons. What changes Board's opinion however is one boy dying in a hot chimney, which Board then asks where the Breakers met. I think a revolution is about to begin!
Chapter 24: sURPRISES
We start off with a celebration and a feast in the halls of the Dogman! They celebrate the return of Rikke, and father and daughter discuss the implications of Stour Nightfall's attempts to conquer and expand his power. There was often a sweet chemistry between the Dogman and his daughter, although he expresses whether he has enough strength to fight on against Stour. Rikke encourages him and tells him he's still the man they all respect. And of course, Rikke continues having an affair with Leo Dan Brock.
Chapter 25: tHE LION AND THE WOLF
After a steamy night with Rikke, Leo wonders about how he's never been with the right woman. With Rikke, she evokes warm feelings for him. And like many young men, have dreams. Of course, Rikke suffers from a fit. That's not great, and Leo brings in Isern to help her out, of course, while being shirtless. Rikke's vision shows a lion and a wolf fighting with the lion emerging as the winner. Leo asks about this, but Isern laughs, kicking him out.
Chapter 26: No Unnecessary Sentiment
A meeting with Inquisitor Teufel proves to be the other way around for Savine. Savine finds herself intimidated by this Inquisitor, whom her father regards highly. The Inquisitor is dirty, shabby. She doesn't take care of her appearance, which Savine finds disgusting. I imagine in her line of business, as Savine sees it, she prefers to deal with people that are good looking, average looking, or well dressed. Dealing with this Inquisitor is very awkward for Savine, for the Inquisitor is a woman of few words, but she has a savvy mind as well. She foresees the extent that coal will play a role in the politics of the Union. Savine does not charm the Inquisitor. In the end, Savine gives the box of sweets to young Tallow when she leaves. And of course, the hard-worn Inquisitor grabs a sweet.
Overall, great chapters! I hope this is enough to convince you to buy the book, and it's a great trilogy in my opinion! Read through the whole Age of Madness trilogy. It deserves a Netflix adaptation.