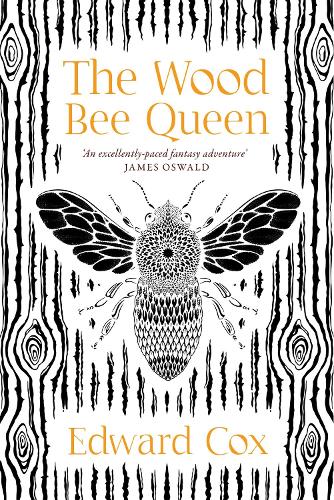 The Wood Bee Queen is an amazing novel. This is a stop on the blog tour for Edward's book, as I have not seen a book like this anywhere on the market, especially the historical fantasy market, that combines Greek and Celtic Mythology in such fascinating tune. It's like a crossover almost. This book, for all intents and purpose, is Narnia for adults.
There, I've said it. It's Narnia for adults. It's got some amazing writing, some amazing prose, and so far, I've been thoroughly immersed into this novel. I've enjoyed elaborate descriptions of a fairy tale, and this book has a fairy tale vibe, but done in an almost Grisha-like style. In fact, I'd compare this a little bit to Shadow and Bone. It gives off that historical vibe, but it gives off that fantasy vibe too. It introduces the modern world and the fantasy world in a well connected universe. The main character, Ebbie Wren, is the last manager of a library that will soon fall into decay as it is going to be sold off by the heartless husband who once gave permission to his wife to fund it. Now that his wife is gone, Ebbie was promoted to manager, but the heartless owner couldn't care less. He is the perfect typical example of the archival type, the one who couldn't care less. Libraries are incredibly important to the book industry, and seeing many of them go in real life, is a big shame. Libraries are the heart of our communities, just as indie book shops are and major publishers of fiction novels are. I completely dislike the fact that working at a library is not considered as profitable as getting a real job, and these are my own thoughts. Thank you to Edward for bringing this up. We as bloggers, should support amazing fiction like this.
Mai is an amazing character who I feel has so much history, so much personality that I'd love to read off-spin series of her. Princess Yandira? She reminds me so much of Princess Azula of the Fire Nation. Cunning, clever but stupid at the same time because she is fixated on the goal of simply ruling. Do the people not come first for her? Or maybe it is the fact that she's too fixated on taking revenge on those that never considered her a proper Queen? Or was it the fact that she did not receive much love. She's not a smart villainy at all. She doesn't think ahead apart from building her own empire now that the Queen has died, and she's gotta think better. There was a funny line about metal and warbirds. Just wait and read it. I swear its gonna make you chuckle a lot. Of course, she can be much better. I've not read far enough to judge what and how she's going to be like, but so far, alright. I'll give her the benefit of the doubt!
This book has amazing writing, an easy to get into novel, and the worldbuilding is so smooth – that you'll want to read more. Basically, you NEED to read the Wood Bee Queen. Full review will be coming in 2-3 days. This is amazing!