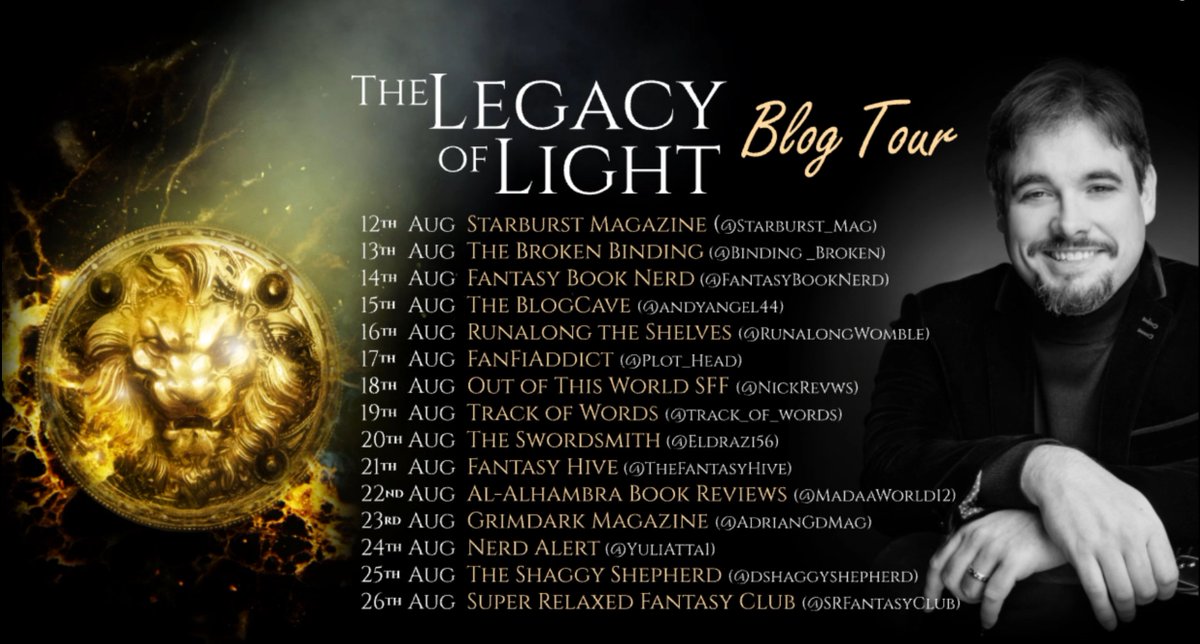 Rating: 10/10
Synopsis
Expertly wrought . . . a vigorous, bravura saga' Publishers Weekly (starred review)
Warfare, myth and magic collide in Legacy of Light, the spectacular conclusion to Matthew Ward's acclaimed Legacy trilogy.
For the first time in many years, the Tressian Republic and the Hadari Empire are at peace. But war never sleeps.
In Tregard, Empress Melanna Saranal struggles to protect a throne won at great cost.
In Tressia, Lord Protector Viktor Droshna pursues forbidden power to restore all he's lost.
As the sins of the past are once more laid bare, every road leads to war. Darkness gathers, alliances shatter and one final battle looms. What hope remains, lies within the light.
Praise for the series:
'Hugely entertaining' John Gwynne
'Epic fantasy as it should be; big, bold and very addictive' Starburst
'Incredible action scenes' Fantasy Hive
'Magnificent and epic'Grimdark Magazine
Review
Thank you to Matthew for reaching out to me to join his wonderful blog tour. I personally consider this an honour and I thank Orbit Books/Nazia for allowing me to review this via Netgalley. All thoughts are mine but you need to the Legacy Triology. You are missing out on a fantastic fantasy series!
This is a magnificent ending to a triumphant series. Over the span of a decade, I have witnessed the growth of good people trying to correct the wrongs of this world only to become the very monsters they aspired not to be in the first place. Power corrupts all, and the Gods play their petty games while manipulating mortals to do their bidding. In the east, Empress Melanna struggles to maintain the grip on her throne because the patriarchal lords and vassals that were loyal to her father now openly disregard her with their hostile and bitter remarks. In many ways, they act more like gossiping women and they're the ones that don't believe in women ruling. How ironic that is. Meanwhile, Viktor struggles with his own Shadow and is becoming a shadow of his once good nature. It's not evil that corrupts him, it is the fact that greed is. Greed and Power are making him even darker than his father. It would be too complex for me to summarise the whole story, so let me tell you my thoughts.
The world is a growing shade of conflict. People are snatched up in the jaws of war, and people suffer. Magic is combined with chaos. Many characters are forced to confront the darkest truths that they cannot abide by. I often felt for Melanna in her quest to try to live a normal family life, but war and politics won't let it happen. I also felt for Josiri, whom I think had a good arc. He was just a normal politician that became bored of the bickerings of the world and just wanted peace. Viktor refused to listen to his advice, instead of manipulating JJosiri with his magic to do what e he wanted. This is a world where morality doesn't exist. When the Gods cannot be perfect examples, what hope do the humans of this world have? There was one character that resonated with me. Rasha. A loyal Hadari warrior that many Emperors/Empresses would want people to like in their nation. I wished there would be an off-spin series about him.
I think each character got the endings that they deserved. I honestly felt some characters got the short end of the stick, while others did well. It felt sad to close this world, and I do wish to see spin-off stories in this new and fascinating world. It's been three years since I've been with Matthew Ward in this series, and it is well done. It's not easy to write such a great sequel to the end of the series, but he's done it. A solid end to a great series with great writing, great characters, and satisfying story arcs. I loved every aspect. I'd wholeheartedly recommend this. Amazing!