So I've been a little late to this, but I decided after watching Daniel B Green's awesome videos, I thought…why not?
So let's begin!
The Lion Shield, Wars of Sparta and Athens, by Conn Iggulden
The Gates of Athens reminds me back to the good old days of Rome Total War, with those massive city walls that you can see behind. If you look closely, you can see the Acropolis in the background. I felt it was a ltitle disappointing that they didn't show other aspects of Athens, which I would have loved to seen personally! There isn't much of the plot yet, but it is set in the Persian-Greek Wars which should make for an epic conflict. Conn Iggulden is an epic writer and I've read his entire series of the Mongol Series. This book is currently being published by Micheal Joseph.
2) A Declaration of the Rights of Magicians by H. G. Parry
The Age of Enlightment having wizards? The 18th century? Napoleonic France in the making? This is an ambitious fantasy/alternate history novel. There's not much I can say but this is def one on my list to watch.
3) The Tower of Fools by Andrzej Sapkowski
This book's reveal by Gollancz was one of the best things I've seen so far. You've played the Witcher 3 series? Well Andrzej was the man behind the books and the hit Netflix show, the Witcher. I have to do a review on this one soon. This is a fantastic cover, and a plot which is very similar to the video-game Kingdom Come Deliverance. Again, this is on my list as Medieval Eastern Europe? Hardly covered! There's a lot of exciting stories that can be told here.
4) The City of Zirdai, Book #2 Archives of the Invisible Sword
After seeing this, I have no idea why I have not come across this book before. I want to read it!
5) Seven Endless Forests by April Tucholke
6) The Thousand Deaths of Arnor Benn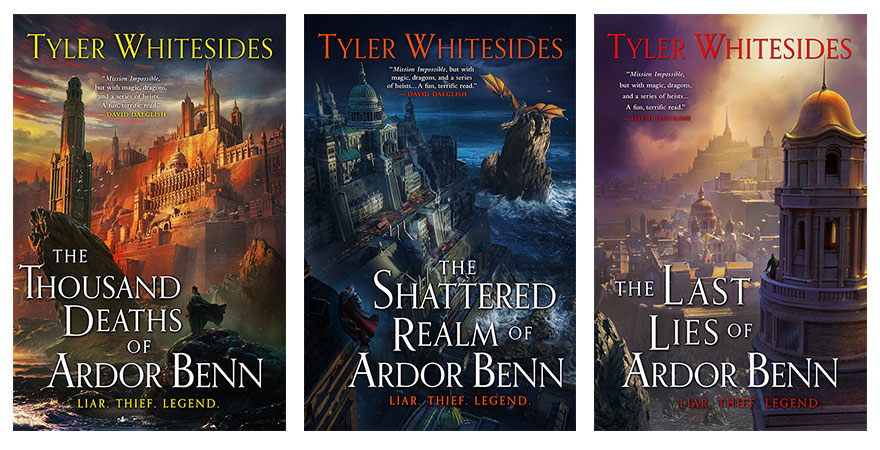 After seeing the plot and the covers, I WANT more fantasy like this. This type of fantasy is my style and the only recent fantasy that I can compare is the Eli Monpress Series. This takes it to the next level. I want an ARC of all these fantastic of books.
7) River of Gold: Empire XI by Anthony Riches
The plot of this book is epic. We get to see the Romans expanding into the ancient Kingdom of Kush! The cover is not yet revealed. Anthony Riches is the bestselling author of the hit series based on Rome: The Empire Series
9) Ashes of the Sun by Django Wexler
Django has a knack, a great talent for writing fantasy. I think he is one of the more under-rated fantasy authors out there, and this new book promises a new world full of fun, adventure and good-old fantasy. So want an ARC of this!
Overall, these are the great books I'm looking forward to in 2020! What are you looking forward too? Comment down below!
Support me!
If you like the reviews I create, if you love my content, please do kindly consider a donation on my Patreon and Coffee. I am working hard to upgrade my website to make it become a professional blog site. I do not have the tools required yet, and I am working hard to make this the best site on the web. If you want to see books from all over the world, fantasy with diverse settings, fantasy with broken families and the main character with a bad identity crisis, then here you go! I review historical time periods as well. With your donations, I can upgrade this site to make it look like other bloggers's great sites out there. Thank you.