Rating: 5/5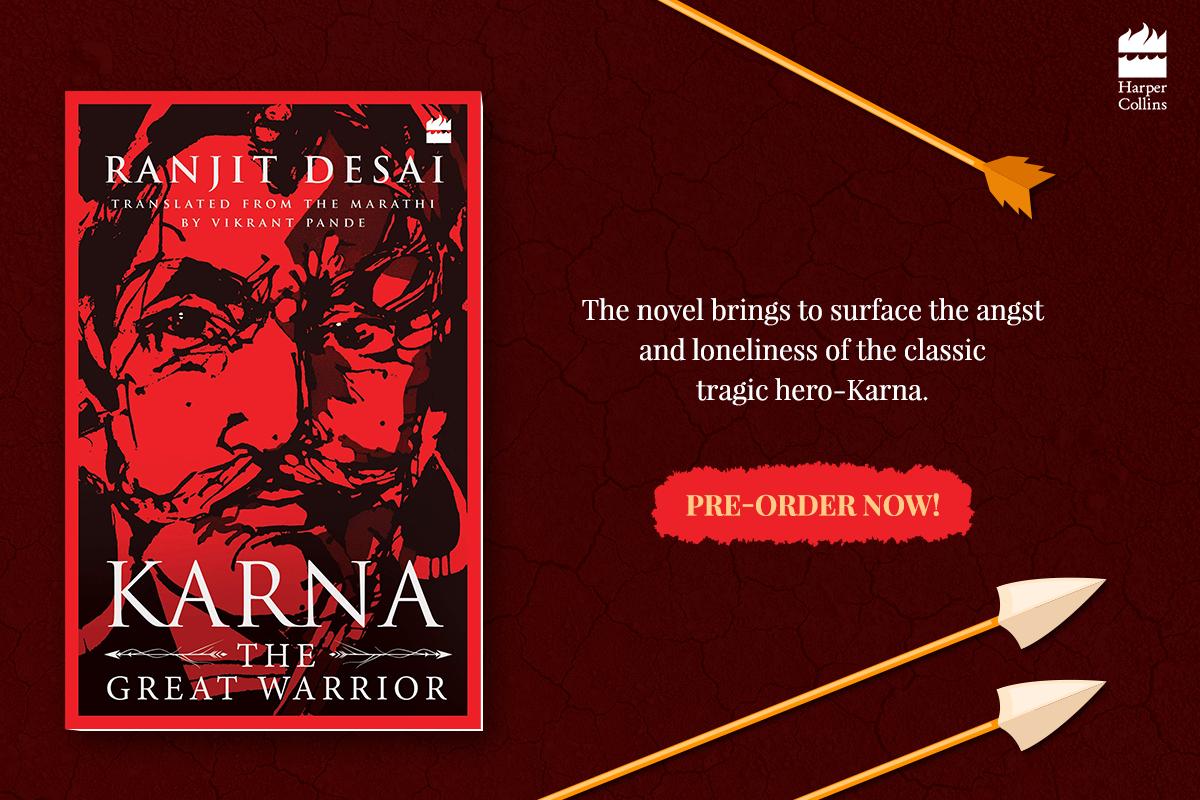 Synposis:
In Radheya, author Ranjeet Desai explores the eternal of question of doing what is right versus carrying out one's duty, told through the eyes of Karna. Set against the backdrop of the Mahabharata, Desai attempts to make readers aware that although winning is usually the goal in every war, one should also be ready to face defeat.

Through Radheya, readers will learn about Karna and the circumstances which earned him a memorable place in the Mahabharata. From early on, Karna was deprived of familial love. Throughout the course of his life, he suffered at the hands of others. He also felt discarded by his own mother Kunti and was also ridiculed by many because he was born in a lower class. Since Karna's foundation years were so tumultuous, his immense strength was reduced and he often felt lonely.

Nevertheless, through Radheya readers can visualize the development of Karna's individuality and how he came to earn the title of fearless warrior. This novel is essentially a written tribute to the hero Karna who fought against his own family members while remaining loyal to his friend. Through Karna's decisions and actions, Desai brings to life the impending dualities of life such as victory and defeat, and doing what is expected versus doing what is right. Through Karna, Desai has tried to universalize the "karma katha".
Review:
Thank you to Harpercollins India and Prateek Agarwal for sending me this brilliant book. I love the effort and hard work that went into the translation, and I am shocked from this novel, as I have never been exposed to such a viewpoint before.
As an NRI, this novel gave me quite a new perspective on the Mahabharat. I've travelled to splendid palaces, witnessed the rise of Karna, his ultimate humiliation by his brothers. How Draupadi insulted Karna often consistently. Because Karna was born of a low-caste when in fact he was the eldest brother of the five Pandavas. Karna is a character similar to Hector of Troy, similar to characters who have had fate become completely twisted for them. You see plenty of famous characters, including Krishna, and the events that unfolded in this dramatic war that claimed the lives of many. There is so much to be covered, that it would take forever to note down. Just know that this novel is incredible in every sense of the detail. Every sense. Emotion wise, plot wise, dialogue wise, etc.
This is very similar to the epic of Troy. Others may disagree, but in both the stories, the gods often intervened and you get a sense of this. However Indian Gods, or Gods of Bharat, which is India's ancestral name, such as Lord Surya Dev ji and Lord Indra have different philosophies as compared to Zeus or Aphrodite. Karna despite being mocked, insulted and cursed at, persists to the end of this novel. If you are familiar with the Mahabharat, you will know about his story. Ranjit did a great job of writing from Karna's viewpoint, and Vikrant Pande uses a very rich vocabulary to transport you into an almost fairytale story of Vedic India. I would suggest readers unfamiliar with the story first read the Mahabharat, understand Karna, and then you will understand the events of the novel. The Mahabharat is basically the epic of India. Just as Romance of the Three Kingdoms is to China, just as the Epic of Troy is to the Western World and Greece. All of them have characters that want simple lives, but politics and scheming villains are always present. If the villains of each of these epics had a cross-over, I bet they'd be united to defeat the heroes. Because essentially it was a bitter-sweet ending. Most of the evils began to transcend into this great war. The time of Kal-Yug where evil reigns in the time we live is present. And the Mahabharat was slowly showing that the golden spiritual world we lived in, was crumbling. There is an interesting story after the events of the Mahabharat that herald the arrival of Kal-Yuga. But there is also the belief that the world will be reborn again. Just as the Norse had when Ragnarok was done. Who knows what they will do in this new world? This novel has everything to make you cry, love, and be immersed into such an ancient epic of Sanata Dharam, or Hindusim as it is known today. Buy this novel now.